For the less daring, we also have a Centre of Mining Experience and Memory (CEMM) that shows the history of mining in Asturias in an didactic way.  Installed in the old shower house at Soton Mine ("Casa de Aseos del Pozo Sotón"), it shows a journey through the history of the company HUNOSA from the perspective of experiences and interactivity with virtual and real elements.
The museum recreates spaces dedicated to the miners, firedamp, accidents at work, historical documentation, cooperative shops as well as the work of women miners.
Besides the standard visit, CEMM includes in its offer specific programs for school children, for families, dramatized visits, creative workshops, children's camps, birthdays called as "miners bdays" and an escape room.
Likewise, it also offers its spaces to companies interested in carrying out their training dynamics.
From the family point of view, we transform our Experience Centre into a place open to families where they can celebrate birthdays, cooking workshops, camps and creative workshops.
Schoolchildren as protagonists
As an educational resource for schoolchildren, our facilities become a classroom where students learn about the history of coal through units designed for schoolchildren use.
There "Carbonín" awaits them
We offer visits for groups of students, both from Primary and Secondary School, High School, Vocational Training and also for University students, adapting to the needs and ages of the visitors. The groups must be of a minimum of 10 people.
The exhibition space has a maximum: "You can touch it"
90% of the exhibits have been recovered or reused from closed mines. The spirit of the Centre is to make use of all available materials. The selection of pieces from closed mining shafts is used for direct display, or reused to support exhibition material.
But the project aims to go beyond the fact of disseminating information to the public. It seeks to involve the visitor. Stimulate their curiosity and interest and get them to form part of the exhibition and its content.
The experiences of the mine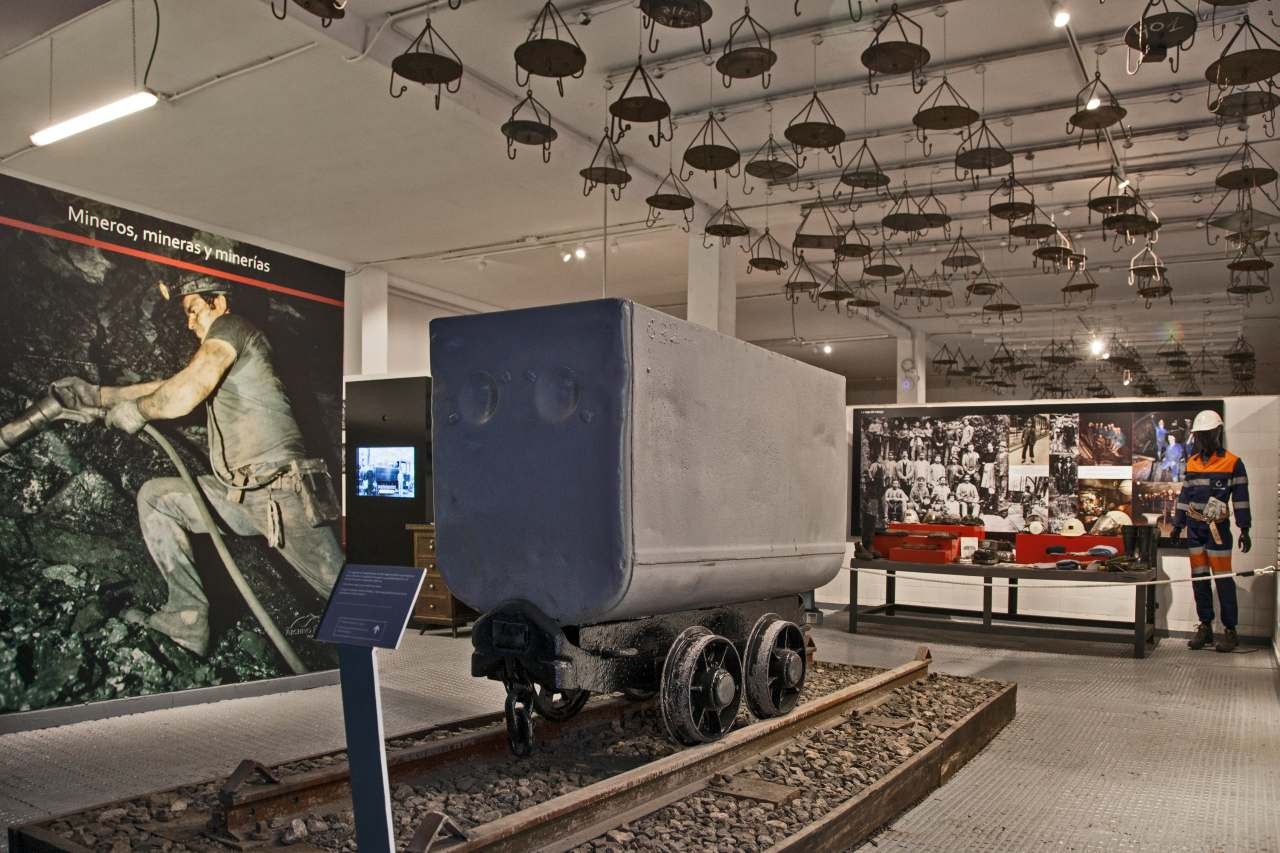 The story is based on the creation of experiences in the visitor, like going down and up a toilet hanger or pushing a mine car… of almost a ton!… would you be able to?
You will also be able to interact with new technological resources, build a mine with the Minecraft video game, take a picture with former miners… or experience the most absolute darkness… and some other surprises!
Oh, and you can also visit an outdoor park dedicated to mining machinery and a memorial that pays tribute to the thousands of workers who left their lives digging for coal.
Opened from Monday to Sunday.
Morning: 10:00h to 14:00h.
Afternoon: 16:00h to 18:30h.
Guided tours are available by reservation for groups of more than 12 people.
Phone number: +34 985 66 19 44 
General type
Adult
3,50 €
Child
2,50 €
Adult group (minimum 10 people)
3,00 €
Child grupo (minimum 10 people)
2,00 €
Discounts: (retired, unemployed, disabled, large family and students)
2,50 €
Family (2 adults + 2 children)
8,00 €
General theatre visit. By reservation. No discount
3,50 €